Hi Line 24 Sutherland 18 10:21 3rd #nebpreps

Hi Line 16 Sutherland 18 half #nebpreps

Hi Line 16 Sutherland 18 1:04 2nd #nebpreps

Hi Line 8 Sutherland 18 6:15 2nd #nebpreps

Hi Line 8 Sutherland 12 end of 1 #nebpreps

Hi-Line 0 Sutherland 6 8:22 1st #nebpreps

CC: Hi-Line @ Broken Bow Invite. Saturday, September 11, 2021 @ 10:00 AM. #gobulls

HSVB: Saturday, September 11, 2021. Hi-Line @ Loomis VB Tournament. 9:00 AM: Hi-Line v Franklin; 2nd match @ 11:00 AM; 3rd match at 1:00 PM or 2:00 PM. #gobulls

Results from Eustis. Bertrand d. Hi-Line 25-22 25-19. Hi-Line d. Cozad 25-19 25-15

HSFB: Friday, September 10, 2021: Hi-Line Bulls v Sutherland (@ Eustis). 7:00 PM kickoff. #gobulls

Here are pictures of the flu shot documents that can be found in the documents section of our website under parent resources. The links are below. Flu shot letter -
https://5il.co/yogh
Flu shot concent form -
https://5il.co/yogl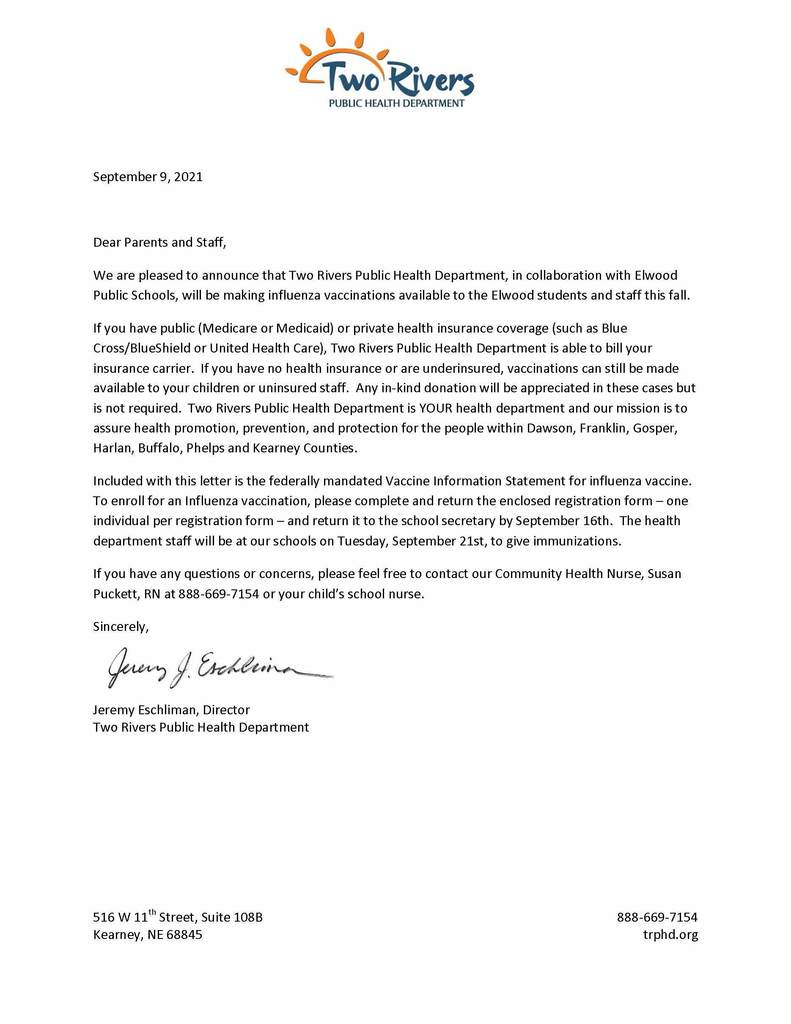 FLU shot consent forms are on the website under Documents: Parent Resouces .. Thanks

REMINDER: Picture Day is tomorrow (Sept 10th)! Still can pick up packets in the Main Office or Order @ h2ophoto.net "SMILE PRETTY"

Two Rivers Health Department will be offering a flu shot clinic at school on September 21st beginning at 7:30 am. Forms to receive the flu shot will be coming out today or tomorrow. We will also post them on our website. Due date for forms is September 16th.

HSVB: Thursday, September 9, 2021 @ Hi-Line Triangular (@ Eustis). 5:00 PM Hi-Line v Bertrand; 6:00 PM Bertrand v Cozad; 7:00 PM Hi-Line v Cozad. #gobulls

CC: Hi-Line @ Lexington Invite (@ Lakside CC). Tuesday, September 7, 2021 @ 5:15 PM. #gobulls

JVFB: Hi-Line v Cambridge (@ Eustis) Tuesday, September 7, 2021. 5:00 PM kickoff. #gobulls

Please support the Elwood Booster Club Fall 2021 - Fundraiser apparel fundraiser by shopping from our online shop. Just five days left, the shop closes Sep 11th.
https://fancloth.shop/BCKAF

There will be no school Monday Sept 6th due to Labor day.

Wilcox/Hildreth defeats Hi-Line 21-25 25-21 26-24