Thanks to Jeff and Codina Moore for the hamburgers today. Thanks to Codina Moore for helping grill and thanks to Mr. Ropers for loaning his grill to the school.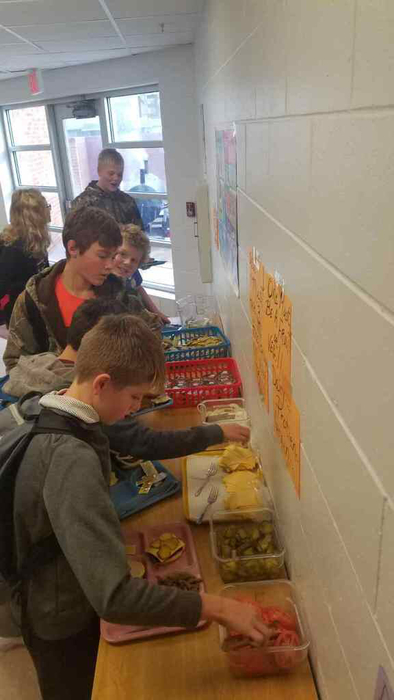 The Foods class helped the Preschool build gingerbread houses this week. It was an amazing learning activity for everyone!

BBB Elwood 43 Gibbon 87 Final #nebpreps.

BBB Elwood 32 Gibbon 66

BBB Elwood 21 Gibbon 43 half. #nebpreps

BBB Elwood 11 Gibbon 16 end of 1st #nebpreps

GBB Elwood 35 Gibbon 36 Final OT. Great effort Lady Pirates

GBB Elwood 27 Gibbon 27 end of 4th. Headed to OT. Extra basketball tonight free of charge. Go Lady Pirates.

GBB Elwood 20 Gibbon 17. End of 3. #nebpreps

GBB Elwood 14 Gibbon 16. Half #nebpreps

GBB Elwood 9 Gibbon 8 end of 1st. #nebpreps

We will be starting basketball in Gibbon tomorrow (Tuesday, December 18) at 4:00pm with JV Girls (4 Qts.) followed by girl's varsity followed by boy's varsity. (No boy JV)

Congratulations to the following students who were named academic all-conference by the Fort Kearny Conference. To be eligible, a student must be a junior or senior. Football - Raul Clouse, Zacob Evans Volleyball - Makenzie Clouse, Hadley Martin Cross Country - Taylor Hickey

Ho, Ho, Ho and Merry Christmas! This is your favorite ROBO call girl Makenzie Clouse calling to let you know that there will be a 2:00 dismissal on Thursday December 20th and Friday December 21st for final. If you have any questions please contact Santa at at 555-897-1225

BBB Elwood 35 Ansley Litchfield 61 Final #nebpreps

BBB Elwood 32 Ansley-Litchfield 50 end of 3rd #nebpreps

BBB Elwood 17 Ansley-Litchfield 32. Half. #nebpreps

BBB Elwood 10 Ansley-Litchfield 12 end of 1st #nebpreps

GBB Elwood 26 Ansley-Litchfield 30 Final #nebpreps

GBB Elwood 14 Ansley-Litchfield 14 end of 3rd #nebpreps