The 2019-20 basketball season begins tonight with games in Elwood. Girls JV begins at 4:30 and they will play three quarters. There is no boys JV tonight so look for the varsity game to begin between 5:45 and 6:00. GO BULLS

The Hi-Line WR Invitational will be this Friday, December 6 in Elwood. The start time will be 1:00 PM this year. This is a change from previous years. Go Bulls!

Due to a shortage of Wilcox-Hildreth boy players, there will be no JV Boy basketball tomorrow (Thursday, December 5) v Wilcox-Hildreth.  We will start the JV Girl game at 4:30 PM (3 quarters); followed by Girl varsity; followed by Boy varsity.  Games will be played in Elwood.  

The winter sports season begins tonight with the Arapahoe Basketball Jamboree. The Bulls play two opponents tonight, Maywood-Hayes Center for two quarters at 6:00 and Arapahoe for two more at 7:00 and the girls and boys will play at the same time. Admission is $5 and the game is a fundraiser for the Nebraska High School Sports Hall of Fame so no passes will be accepted. GO BULLS!



The road to Lincoln begins tonight as volleyball subdistricts begin. The Bulls play at 7:30 vs. Elm Creek, the first game is South Loup vs. Maxwell at 5:30. Admission is $5 for adults and $4 for students, no passes will be accepted. You can park on the north or west side of the school but the only entrance in the main entrance on the west side of Lexington High School. GO BULLS!

Good luck to Whitney as she competes at State Cross Country being held at the Kearney Country Club. Whitney competes at 2:00.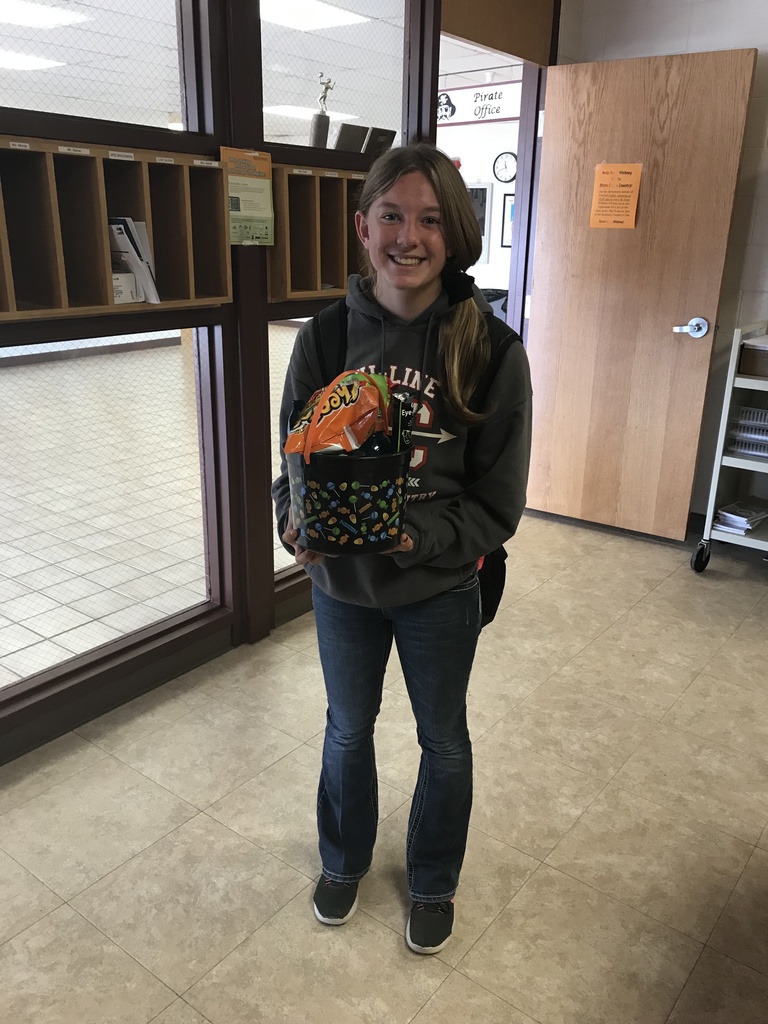 A busy night in Elwood as the Hi-Line Tournament is being held, it's also a pink out and parents night for the volleyball and cross country teams. Games begin at 4:30 with Hi-Line vs. Ansley-Litchfield followed by Anselmo-Merna vs. Brady, the the consolation and championship game. The athletes and parents will be honored between the second game and the consolation game. There is also a cake raffle going on with proceeds to breast cancer research. So wear some pink and come support the Bulls!

Busy volleyball Monday with the Hi-Line Junior High Invite being held in Elwood. The Bulls play the first game at 4:00 vs. Loomis, then Arapahoe vs. Brady, with consolation and championship games to follow. The JV team is off to SEM for a dual beginning at 5:00. GO BULLS!

While the junior high football game was cancelled, the junior high volleyball matches are still on in Curtis today with games beginning at 1:00. More importantly the cross country team attempts to qualify for state next week. Districts are this afternoon at the Cross Creek Golf Links in Cambridge. The girls beginning running at 4:00. GO BULLS!

Here is the bracket for the 2019 Hi-Line Junior High Volleyball Tournament which will be held in Elwood Monday, October 21.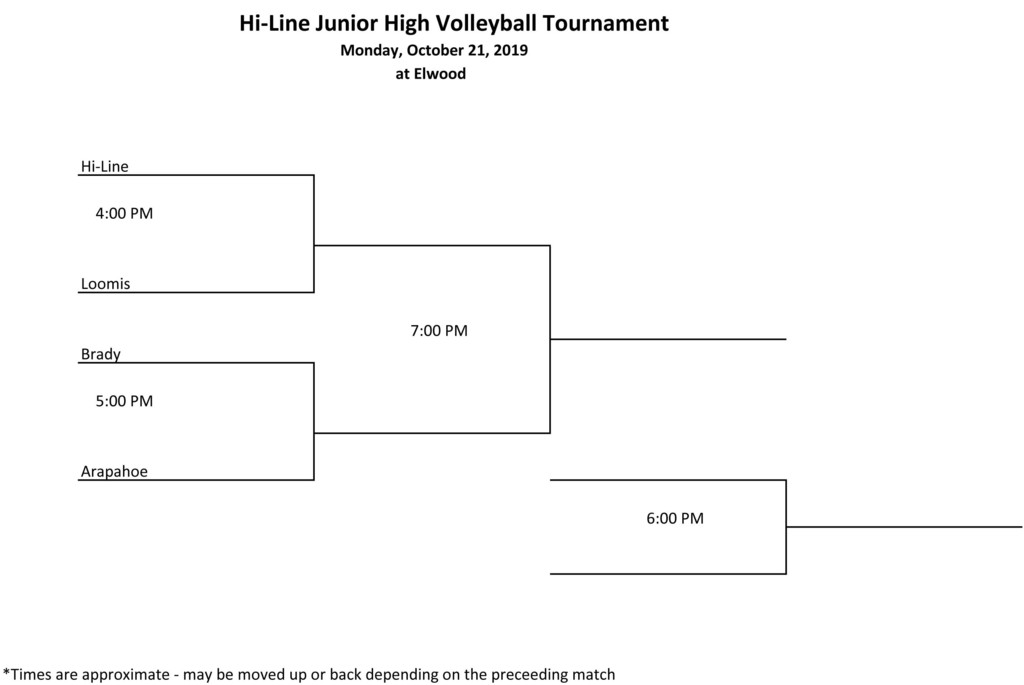 FKC Volleyball tonight at Kearney Catholic with our game scheduled for 7:00 against SEM. GO BULLS!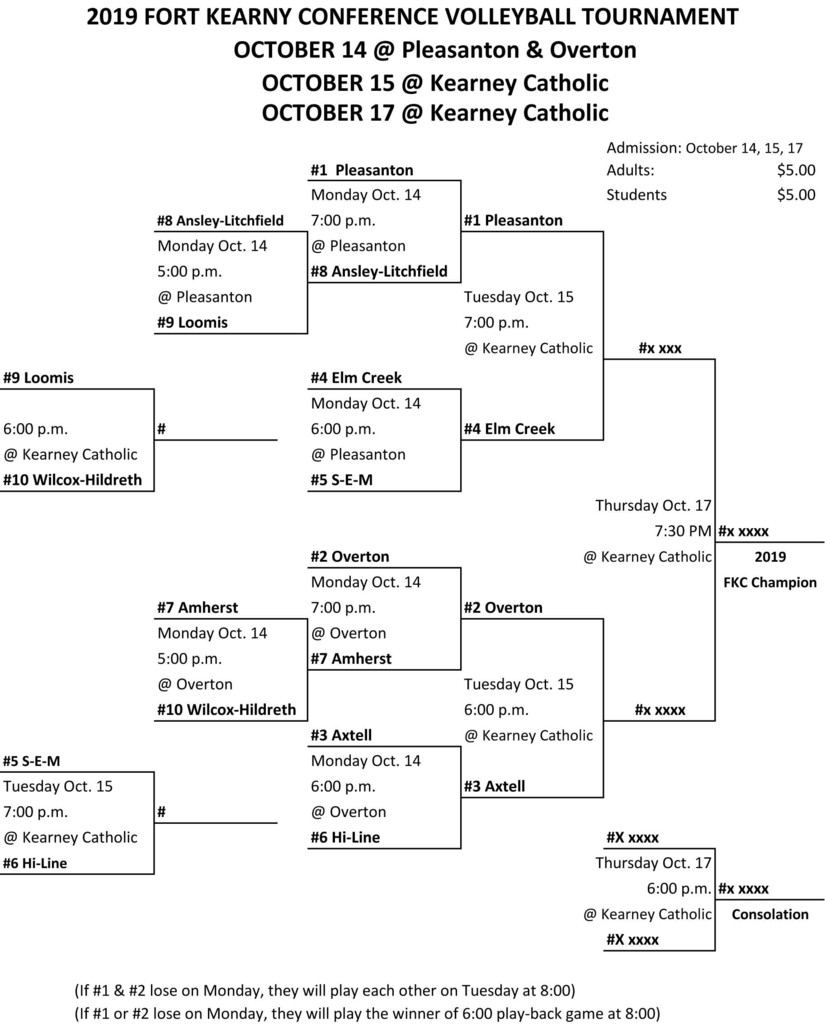 The FKC Volleyball Tournament begins tonight with games in Overton and Pleasanton. The Bulls play in Overton at 6:00 vs. Axtell. First game there tonight is Amherst vs. Wil/Hil at 5:00 and all games are best 2 of 3 sets tonight.. Admission is $5, no passes will be accepted. GO BULLS!

It's Hi-Line volleyball action today at Arapahoe, with the C team starting off playing a set at 4:30 followed by JV at 5:00 (best 2 of 3) then the varsity (best 3 of 5). GO BULLS!

Wisely taking advantage of the weather, the cross country team is off today for the Wilcox/Hildreth Invite which is held in Franklin. They beginning running at 1:00 this afternoon. GO BULLS!

Here is an updated bracket, we actually play at 6:00 on Monday.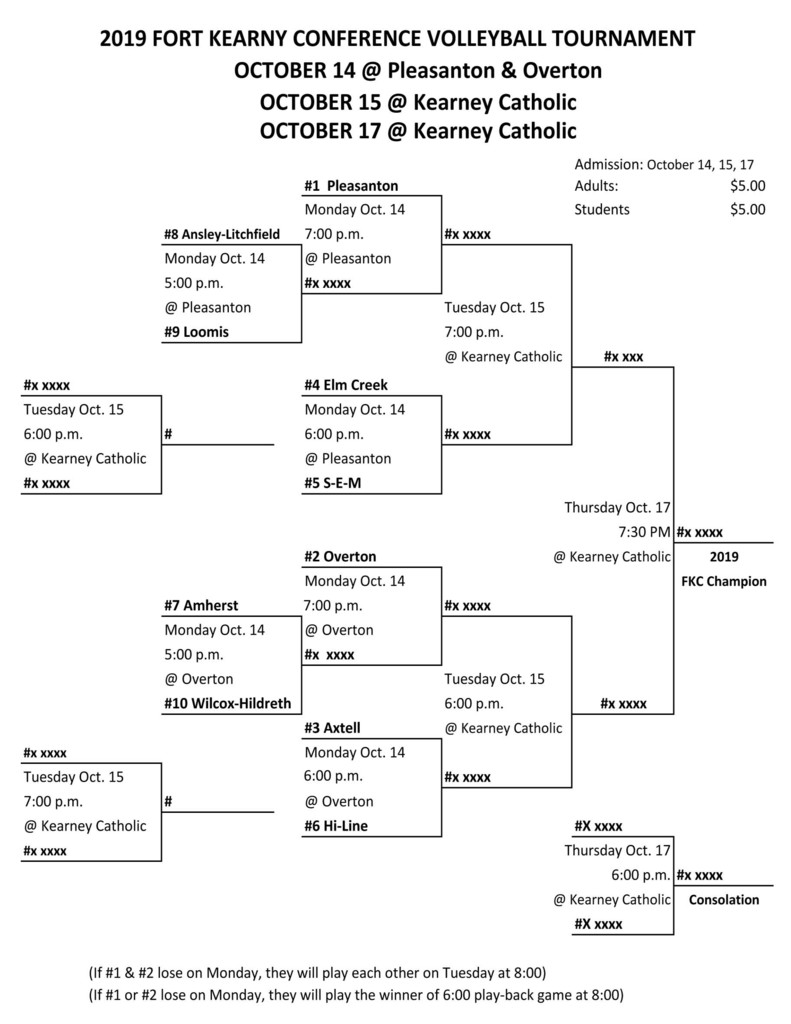 Here is the bracket for the 2019 FKC Volleyball Tournament which begins Monday October 14th.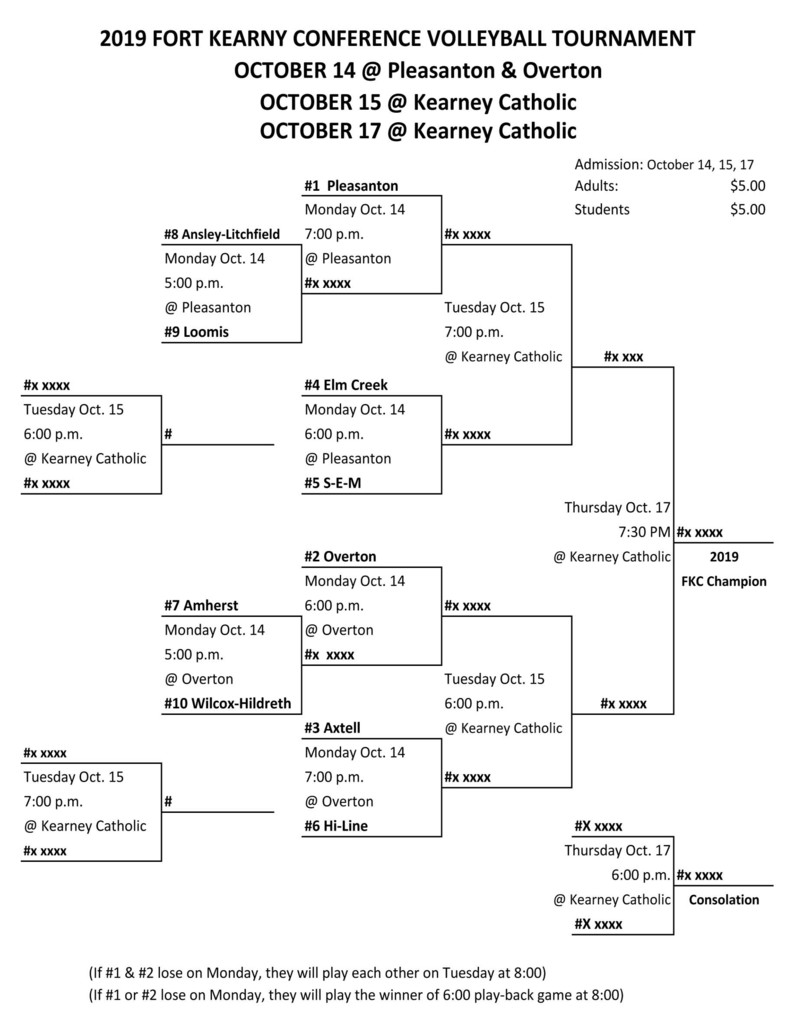 The bracket is out for the FKC volleyball tourney next week. We'll post the full bracket later but the Bulls play Axtell in Overton at 7:00 on Monday the 14fh