It won't be long and the 2021-22 sports seasons will be underway. It's time to get ready with the latest Bulls gear. The volleyball store is available at the link below and will be open until July 15th so order soon. Go Bulls!
https://www.bsnteamsports.com/shop/hilinevb

Congratulations to the following students who were name academic all-state by the Lincoln Journal-Star for the the 2020-21 sports year. Football – Ian Corder, Nate Hodge, Trevor Jorges, Kody Keller, Zebulun Knackstedt, Jadeyn Kohl, Evan Niemeier, Cooper Ray, Carsen Reiners Volleyball – Kennedy Brell, Kaydee Diefenbaugh, Gracie Gibbens, Gretchen Hodge, Karissa Hodge, Joszelyn Nichelson, Alivia Knoerzer, Boys Cross Country – Jordan Kranz, Girls Cross County – Maggie Walker Boys Basketball – Ian Corder, Nate Hodge, Kaden Nickell, Cooper Ray Girls Basketball – Kaydee Diefenbaugh, Gracie Gibbens, Gretchen Hodge, Karissa Hodge, Alivia Knoerzer, Joszelyn Nichelson Wrestling – Trevor Jorges, Jadeyn Kohl, Ayden Moore, Carsen Reiners Boys Track and Field – Ian Corder, Nate Hodge, Kody Keller, Jordan Kranz, Trevor Jorges, Cooper Ray Girls Track and Field – Kaydee Diefenbaugh, Gretchen Hodge, Karissa Hodge, Lauren Hickey, Alivia Knoerzer, Jada Lerdall, Joszelyn Nichelson, Maggie Walker Boys Golf – Kaden Nickell

Hi-Line BTF: Jordan Kranz finishes 13th in Boys Class C 800 meter run with a PR 2:04.02. Great season Jordan! #gobulls

Hi-Line BTF: Jordan Kranz will compete in the 800 meter run today (Saturday) at 10:40 AM. #gobulls

Hi-Line BTF: Kody Keller runs an 11.42 in the Class C 100 meter dash prelims, just short of finals. Great season Kody!! #gobulls

BTF: Kody Keller about to run 100 meter dash prelims Class C boys. #gobulls

Please join us in downtown Elwood at noon tomorrow to send off state track qualifiers Jordan Kranz and Kody Keller. We'll cheer them on as the van heads out. Good luck at state boys!

The Elwood Public School app is now version 2.0! You will notice a very different look but all the same information is there. One thing you will probably have to do is go into the settings are re-select if you want to receive push notifications from Elwood Public School, Hi-Line Bulls or both. The graphic explains how to do this. If you haven't downloaded the app before this would be a great time to get it and stay connected wherever you are.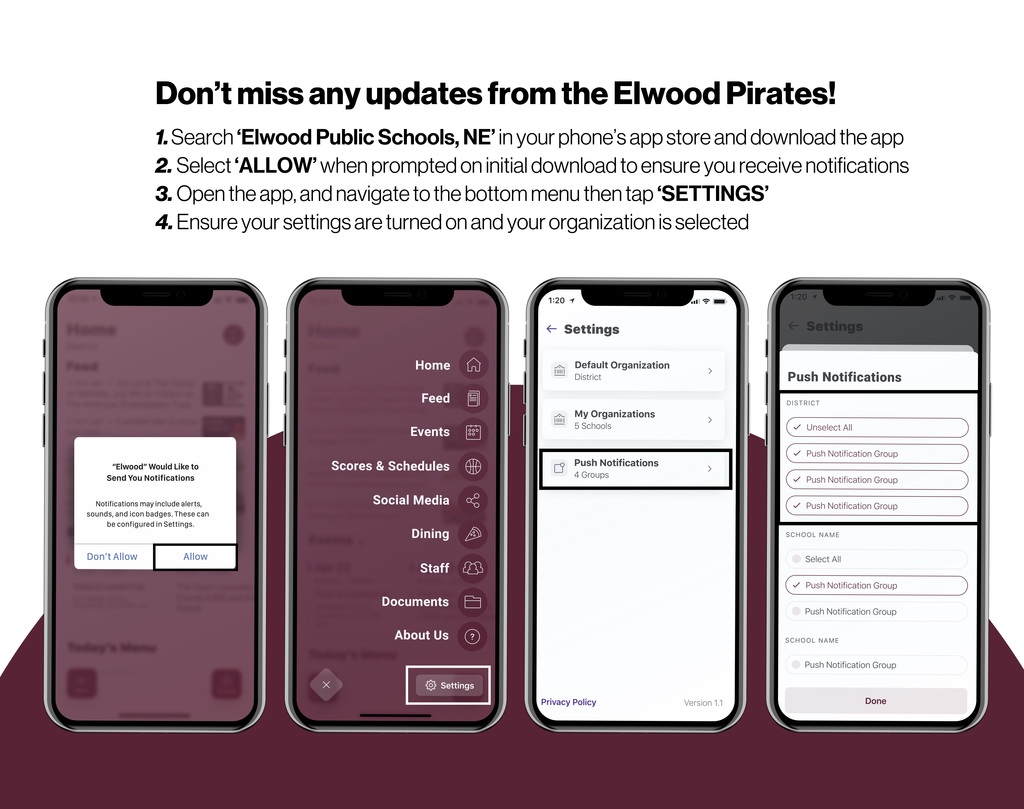 More good news from yesterday. Kody Keller has made it to state as an additional qualifier in the 100. He will run the prelims on Friday May 21 at around 11:20. Finals would be on Saturday at 11:20. Congratulations Kody!

Congratulations to Jordan Kranz who qualified for state track yesterday in the 800. Jordan will be running Saturday May 22 at 10:30 at Burke Stadium in Omaha.

ATTENTION ATHLETES You will need to get a sports physical this summer for the 2021-2022 sports season. Family Medicine Specialists Clinic in Lexington will be offering a reduced price on Tuesday, May 18th from 5:00 PM - 7:00 PM. The cost is only $35. Consent forms must be signed by a parent or legal guardian. Forms are available at
https://lexingtonregional.org/sports-physicals/
Physicals done on this day will not be submitted through insurance. Physicals are available year round and are covered by most insurance plans.

TF: C-8 District @ Ord. Thursday, May 13, 2021. Field Events @ 10:00 AM; Running Events @ 1:00 PM. #gobulls

Congratulations to the following students who were name Academic All-State by the NSAA for the spring sports season. Boys Golf - Kaden Nickell Boys Track & Field - Nate Hodge, Trevor Jorges Girls Track & Field - Gretchen Hodge, Alivia Knoerzer

Golf: Cattle Trail Invite @ Curtis. Tuesday, May 11, 2021 @ 10:00 AM. #gobulls

TF: Alma Twilight Invitational. Thursday, May 6, 2021. Field Events @ 1:00 PM; Running Events @ 3:30 PM. #gobulls

JHTF: Fort Kearny Conference @ Elm Creek. Tuesday, May 4, 2021. Field Events @ 2:00 PM; Running Events @ 4:00 PM. #gobulls

Golf: **CHANGE OF VENUE** Fort Kearny Conference @ BERTRAND. Tuesday, May 4, 2021 @ 9:00 AM. #gobulls

Golf: Fort Kearny Conference @ Minden. Tuesday, May 4, 2021 @ 10:00 PM. #gobulls